A Rich History of
Service & Excellence
Our Vision
Prosperous Pacific Communities
Our Story
Formed in 1996 as an Incorporated Society, Pasifika Medical Association was established by a group of Pacific medical professionals who identified a need for an association which brought together and provided a forum for Pacific medical professionals including doctors, medical students and other health professionals.
When the early navigators of the Pacific health sector established PMA it was intended to provide a haven to nurture and grow Pacific health professionals. As the organisation has prospered through the voluntary efforts of its executive committees, members and many sponsors and supporters, it has grown to become a leader in workforce development in the region. The commitment shown then is the same today – in fact the commitment may indeed be even stronger.
Our Purpose
Our purpose is "Providing opportunities to enable Pacific people to reach their aspirations".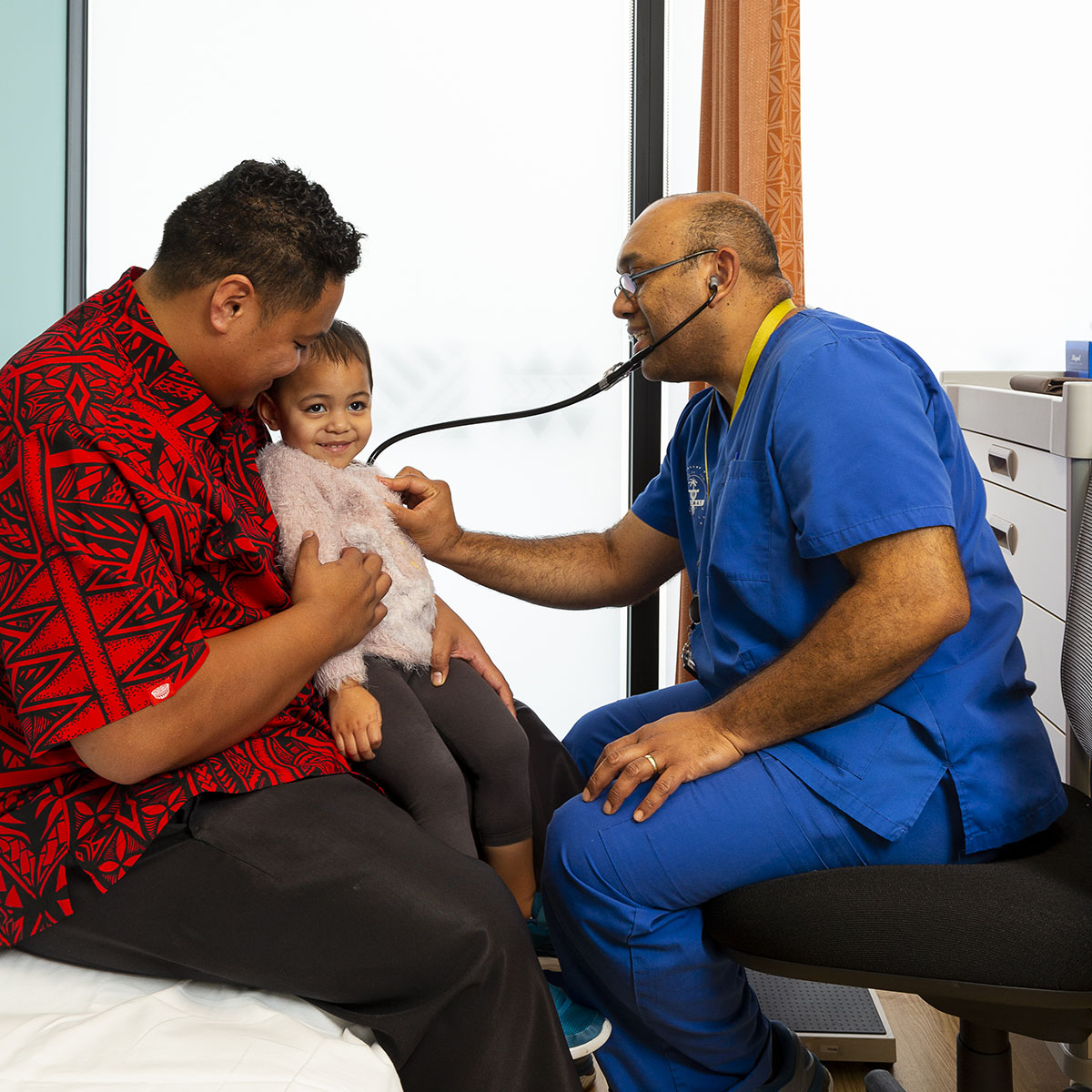 ---
Guiding Values
Leadership
We will lead with courage and humility.
Diversity
Is respected and celebrated, there is a place for everyone.
Integrity
We will act with integrity in all that we do, operating in a transparent and fair manner.
Community
Is the heart of who we are and influences all that we do.
Strength-based
We focus on opportunities and build on our collective strength.
Relationships
Are important and will be based on trust, care, respect and reciprocity.
Shared Responsibility
Working together with families, communities and partners to improve outcomes.
Service
We exist to serve communities with grace.
---
Our Strategy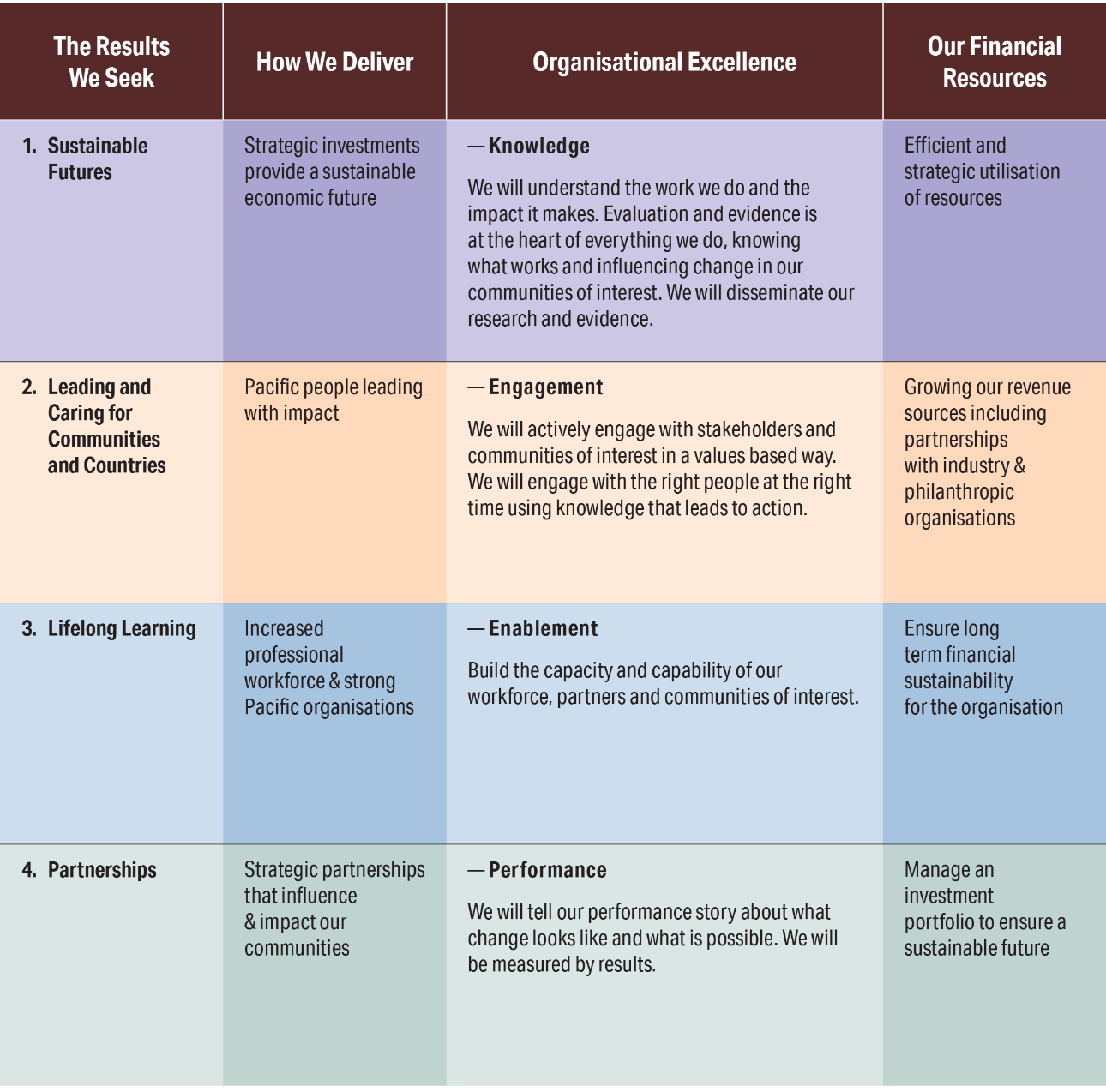 Our Board Members
Dr Kiki Maoate
ONZM, FRACS
President
Dr Francis Agnew
NMZN, FRANZCP, FACHAM
Executive Director
Sir Collin Tukuitonga
KNZM, FNZCPHM
Executive Director
Our Chief Executive
Mrs Debbie Sorensen
D.C.C.T, CMInstD, MNZIOD
Chief Executive Officer
Debbie is a New Zealand-born Tongan, a health strategist and management expert specialising in projects that address the health challenges that face Pacific communities in New Zealand and in the Pacific region. She played a leading role in the establishment of the Pacific health sector in New Zealand and continues to be active in the pacific region in delivering specialist health services and building workforce capacity and capability in partnership with Ministries of Health.
Debbie has received a number of awards. In 2011 Debbie was awarded a prestigious ANIVA Fellowship which enabled her to travel to Harvard University to undertake additional executive development study. In 2015 Debbie was invested with the Royal Order Crown of Tonga, Dame Commander by His Majesty King Tupou VI in recognition of her services to the people of Tonga. She was recognised with a Life Service award from the Pasifika Medical Association in 2016. Debbie was also awarded the Pacific Business Executive Award at the 2016 National Pacific Business Trust Awards.
Our Executive Team
Taulapapa Wilmason Jensen
Deputy CEO
Seini Jensen
Director of Performance and Evaluation
Amanaki Misa
General Manager for Etu Pasifika Christchurch
Gina Harvey
Director of People and Capability
Lucy-Anne Laurenson
Director of Learning Development
Luana Clifford
Director of Partnerships
Jerry Ielemia
Director of Finance
PMA Memberships
Join our PMA Membership network in order to engage with like-minded health professionals and build your skills in the workforce.
Contact Us